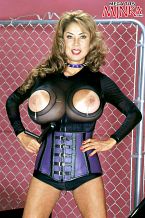 Minka wears a corset, nipple clamps and heels in this unusual pictorial. She's holding a tonfa, an Asian martial arts weapon that some American police departments are issued instead of the standard billy club. She strips off to totally nudity and fucks her pussy with a giant Doc Johnson toy which is not used by any police departments.
Minka was deeply tanned when this layout was shot and the contrast between her brown skin and her white boobs and bikini bottom lines is very dramatic. Minka's hair is a light brown and wavy instead of her usual black and straight.
With her sleek, bronzed body, bikini-lines and mega-boobs, Minka looks like a Duncan Gutteridge or Otis Sweat painting. This pictorial is a first for Scoreland, presenting Minka as a dominatrix.
Around this time, Minka wrote on her website Minkaxxx.com about a vacation she took in Rome. "I was wearing a low cut top for dinner with about nine inches of cleavage showing, and on the way out after dinner everyone stopped eating and talking when I got up to leave and stared with their mouths open as I walked past the other tables. As I walked down the stairs, the piano player and the violinist were so stunned that they stopped playing and looked. The people at the bar got quiet and stared." Even jaded Romans are speechless in her presence.